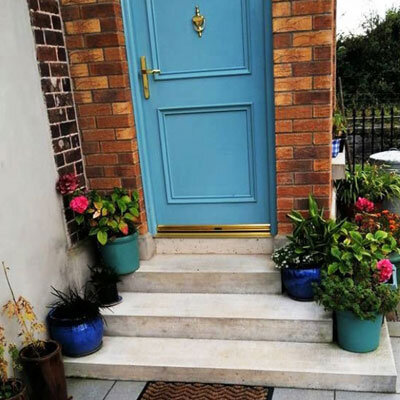 FRONT PORCHES
Front Porches are becoming very popular in Ireland and whether it is built to the front or side area of your house we will create an addition which is unique, visual pleasing and comfortable space to your home. Our Corcrin Construction team have been involved in many porch extensions throughout the years and we guarantee you will be delighted with your finished addition to your home. We have lots of ideas and visuals to help you decide on the one that best suits your taste and property. A porch can either blend in to match the existing surroundings or go bold with something different to stand out as a statement feature to your house.
Q & A 
.Everything you need to know about Porches. What is a Porch?
A porch is an extension which is built in front of the door to your house and it can range in size to a small hallway or an entire room. It can be made into an open air or enclosed porch depending on your budget and space permitting. A porch can be made of brick, glass or uPVC. It will have a roof, brick walls, windows, a door and will require foundations. If desired the colours we select can match your existing windows and walls that will naturally blend in with your house, so it looks like it's always been a part of the structure.
Do you need planning permission for a Porch?
It does not normally need planning permission when building a front porch so long as it does not exceed 2 square metres in area and is more than 2 metres from a public road or footpath. If the porch has a tiled or slated pitched roof, it must not exceed 4 metres in height or 3 metres for any other type of roof. It is advisable to always check with your local authority or maybe a neighbour who had already built one in your area.
Why do people get Front Porches?
Increases the value of your house
Obtains additional storage space for coats, hats and footwear
Improves security levels in the home with a second secure door
Makes it unique to suit your own ideas
An inexpensive and affordable way to expand your home
Visual improvement enhancing the overall appearance to your house
Offers shade from the sun
Insulation value as it keeps the heat in for longer on colder days
So if you planning a renovation on your or adding a Porch call us today for a quote at 087 996 2459